COVID - 19
The world has been turned upside down as a result of the Coronavirus.  We are all impacted in some way by this Covid-19.
Our family life, our business life, how we do business and how we live our lives have all changed over the past months.  This is all new to us and the updates change daily.  It can be stressful and confusing and difficult to separate the facts from the fiction.
Small businesses have been hit hard by the Covid - 19 pandemic.  Many businesses have had to shut down temporarily and the future is unknown.
Capricorn Plumbing is open for business as plumbers are the first line of defence in public health.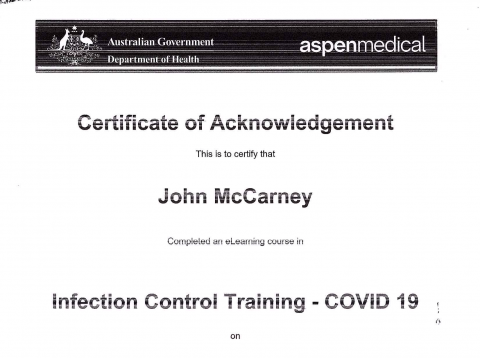 The Master Plumbers & Gasfitters Association, www.masterplumbers.asn.au  have recommended the following, excerpts taken from a Lancet Global Health report published on 23rd March 2020, www.thelancet.com
Do not ignore foul smells in bathrooms and wash areas, any loss of water from the U bend trap seal or water leaking from plumbing waste pipes as ignoring these could be a potential for airborne transmission of COVID-19 or SARS,
Should you experience any waste water leaking or unusual drain smells around your property or any other plumbing matters please do not hesitate to contact us at www.capricornplumbing.com.au or call John on mobile # 0418925082
Please stay safe and healthy.
Covid Health Dept Certificate20200413_14531808